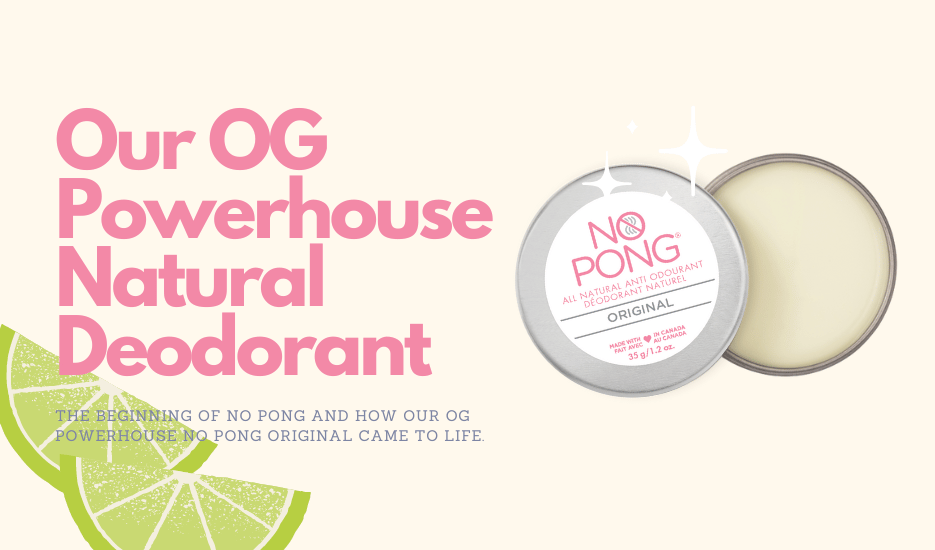 The one that started it all for No Pong. Our Original formula, with its enticing yet subtle scent and its B.O.-fighting strength, has won the hearts of many of our No Pong community.
Whenever we have a new No Pong customer (AKA the coolest people ever) join the No Pong fam, they'll usually try Original first. And it's easy to see why!
But first, let us take you back to the beginning…
How it all Started
After developing a curiosity for what she was putting on and in her body, Co-founder Melanie decided to have a go at creating her own natural deodorant. The first versions were concocted in Melanie and Chris' home kitchen in Sydney, Australia. Through months of trialling different ingredients and scents, the winning formula (No Pong Original) was created!
Before launching, Melanie and Chris did a lot of testing. One of the first tests was a surf trip to the tropical Javanese Jungle, where they were drenched in sweat 24/7 without access to a laundry. However, Chris was actually testing No Pong in secret, as he had previously poked fun at Melanie for making deodorant.
After Melanie noticed Chris had been wearing the same shirt for 3 days straight, he came clean and was super proud of how well the formula had worked. He nor the shirt smelled at all!
The Scent
Imagine living smack bang in the middle of a picturesque citrus orchard and a vanilla plantation. Where you could sit and enjoy the delicious afternoon breeze filled with a mix of these nose-delighting aromas. We know…it's extremely unlikely, but one can dream!
Luckily, our No Pong Original scent is exactly that. A refreshing mix of these beautiful scents that leaves a subtle fragrance when applied to your underarms.
The No Pong Original Formula
We call it a powerhouse for a good reason; this award-winning, highly-effective formula never lets us down!
Backed by the power of baking soda and other amazing natural ingredients like coconut oil and 100% pure essential oils. This mighty little mix does exactly what it says on the tin – No Pong!
You can find our full list of ingredients here.
All of our No Pong deodorants that are purchased from our Canadian and US websites are made with love in Canada. So, you're proudly supporting local suppliers and manufacturers when purchasing your favourite natural deodorant from us!
If you're yet to try No Pong Original, jump over to our website now and get fresh with our best-selling OG.
↩️ Back to Knowledge Base